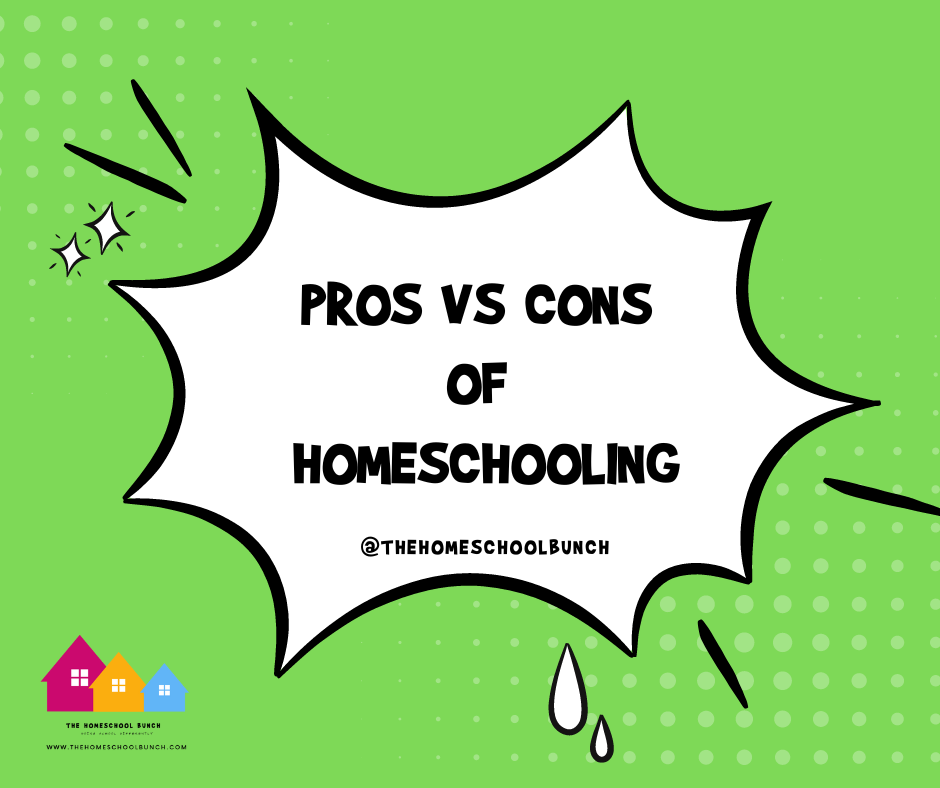 It is a no-brainer that homeschooling is taking the world by storm and the benefits of homeschooling are factual too. So, the temptation to lean towards this education stream is conceivable.

But, homeschooling takes a huge effort, and major lifestyle changes and some families aren't cut out for the long haul, whereas it fits some families like a glove.

So, weighing both sides of the homeschooling coin is mandatory, and here are some important upsides and downsides of homeschooling that you should consider before making the big decision.

Education is not the filling of a pail, but the lighting of a fire.
The Pros of Homeschooling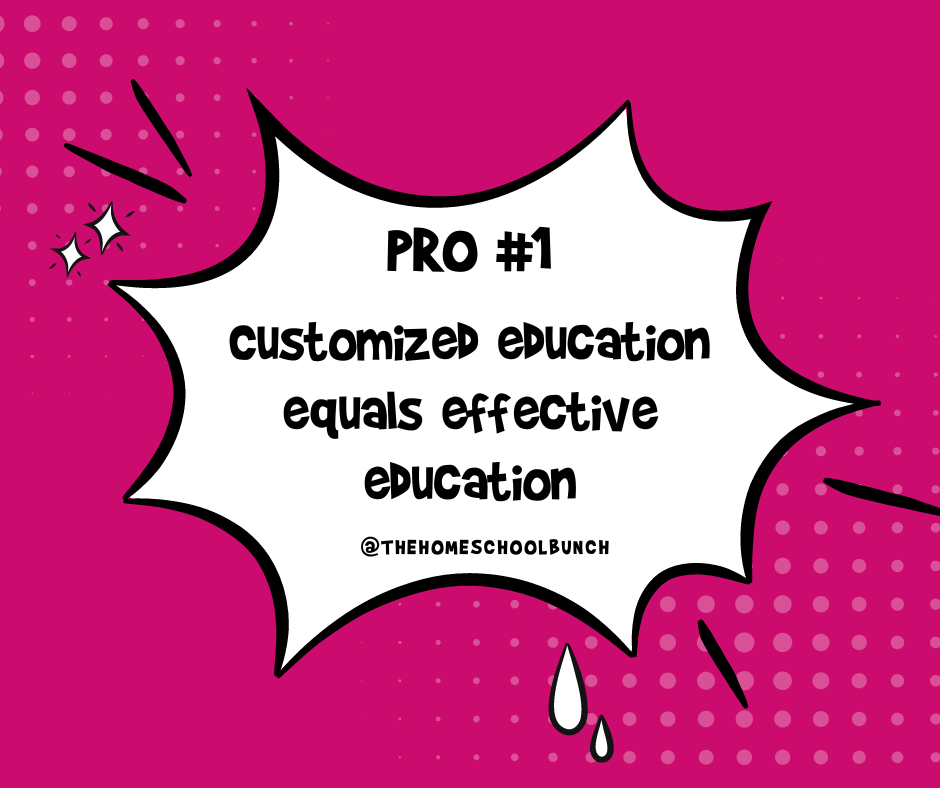 ---
In mainstream education, if your kid is a slow learner, chances are they are going to stumble through their curriculum and will always feel that they are trying to catch up.

But with homeschooling, you create a flexible curriculum that is based on your kid's choice, which will make them learn at their own pace. The end result is more productivity and success.

---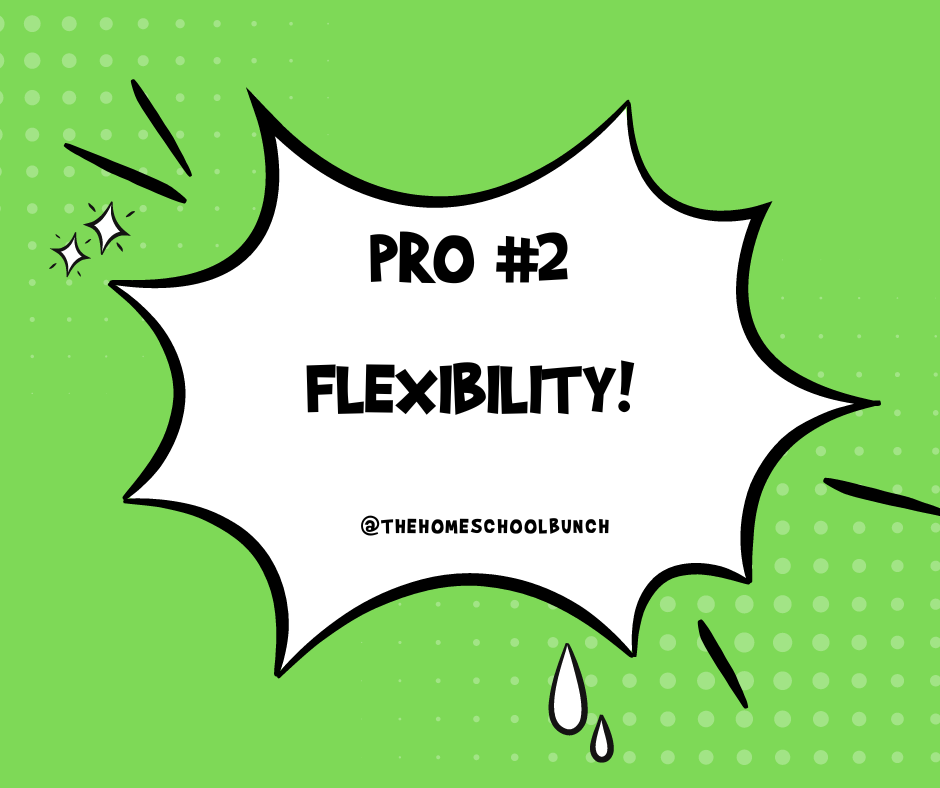 ---
In homeschooling, your kids aren't pressured with additional work, since all the work is done during the scheduled time, hence no homework. Whether you want to travel, learn, pursue a sport, go into the wild, heal together as a family, homeschooling provides a flexible environment for you.

---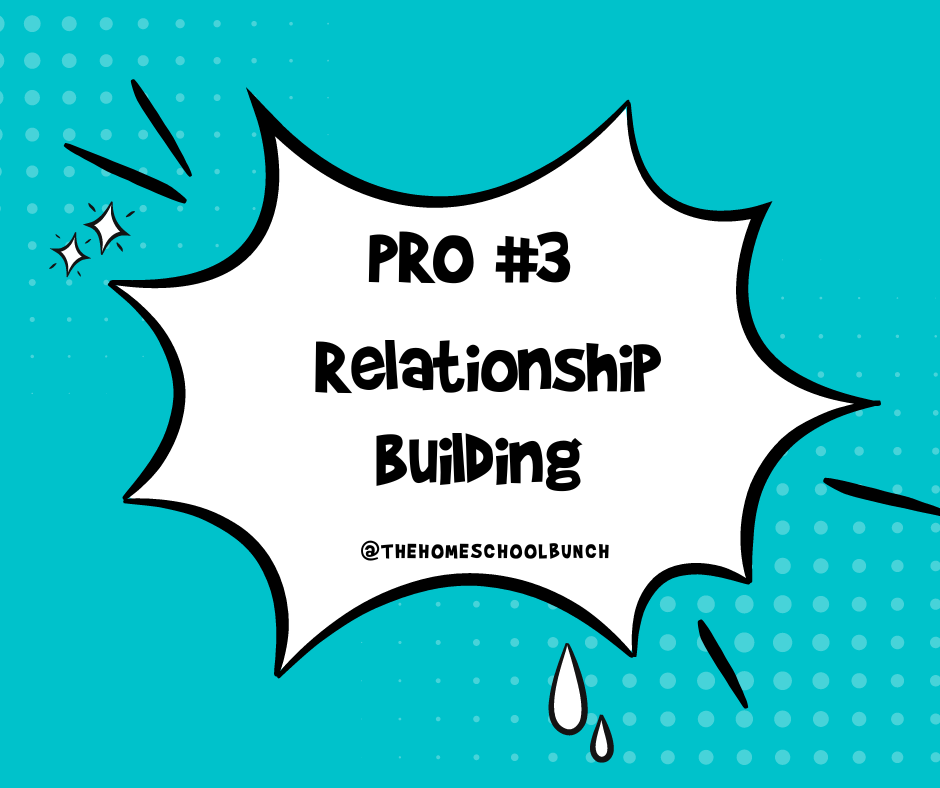 ---
You monitor your kid 24/7, and you are there with them every step of the way, regardless of failure or success. This way, you forge a better relationship with your children, which will take your kid's mental health up a notch as well.


---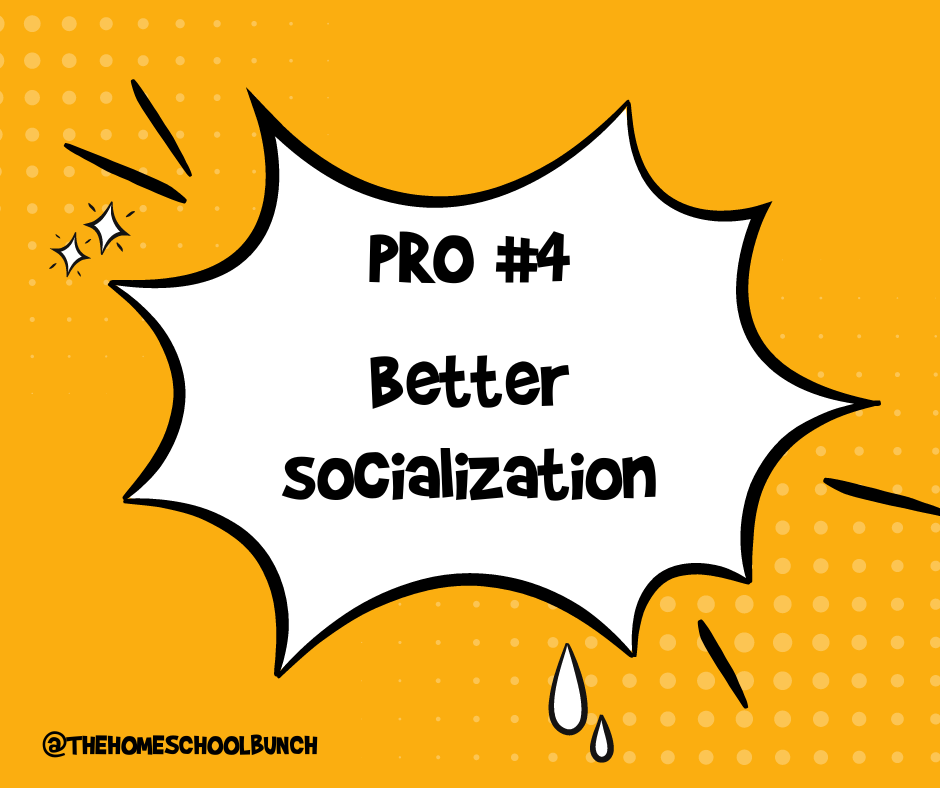 ---
Homeschoolers meet different personalities without age, race, or color limitations. They often engage in group activities that allow them to respect others without boundaries. But, in public schools, every child has a clique and usually, they won't go beyond that. This brews unnecessary preconceptions among kids, whereas a home school encourages equality.  

---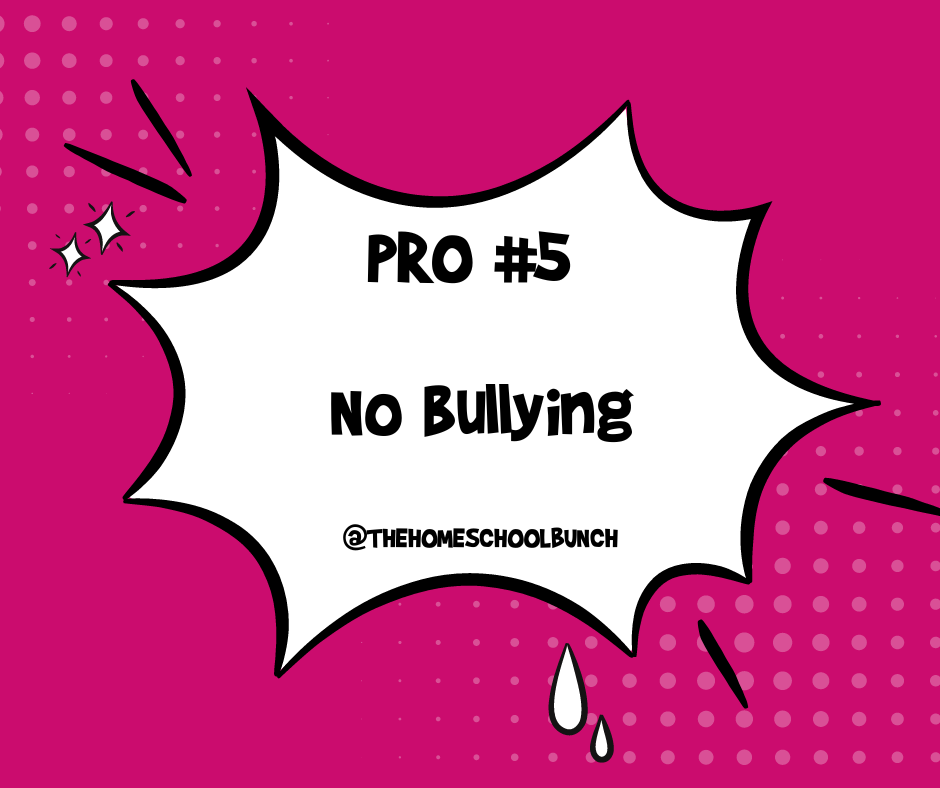 ---
Like some public schools, homeschools aren't breeding grounds for bullying. Less social pressure boosts children's confidence, self-esteem and heightens learning capacity. However, with the use of social media, kids are also experiencing bullying online via various social media platforms including but not limited to Instagram, Discord, Tiktok, and Snapchat. As parents, we cannot prevent bullying in its entirety, but we can do our best to protect their learning environment and monitor their social media usage. We will unpack this in another blog!

---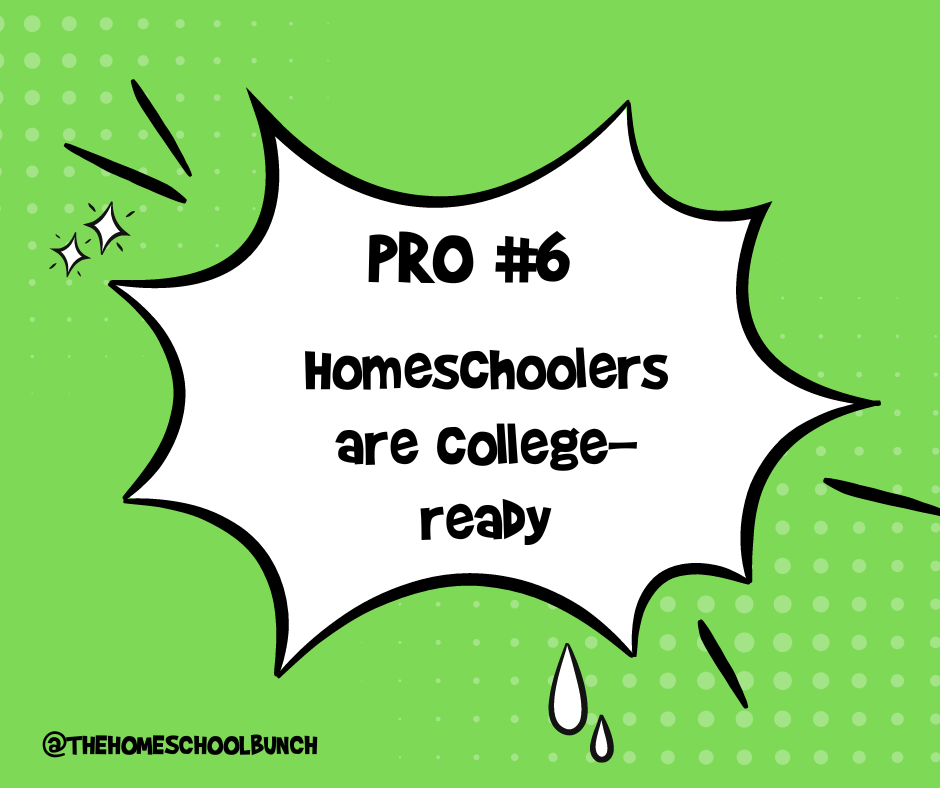 ---
---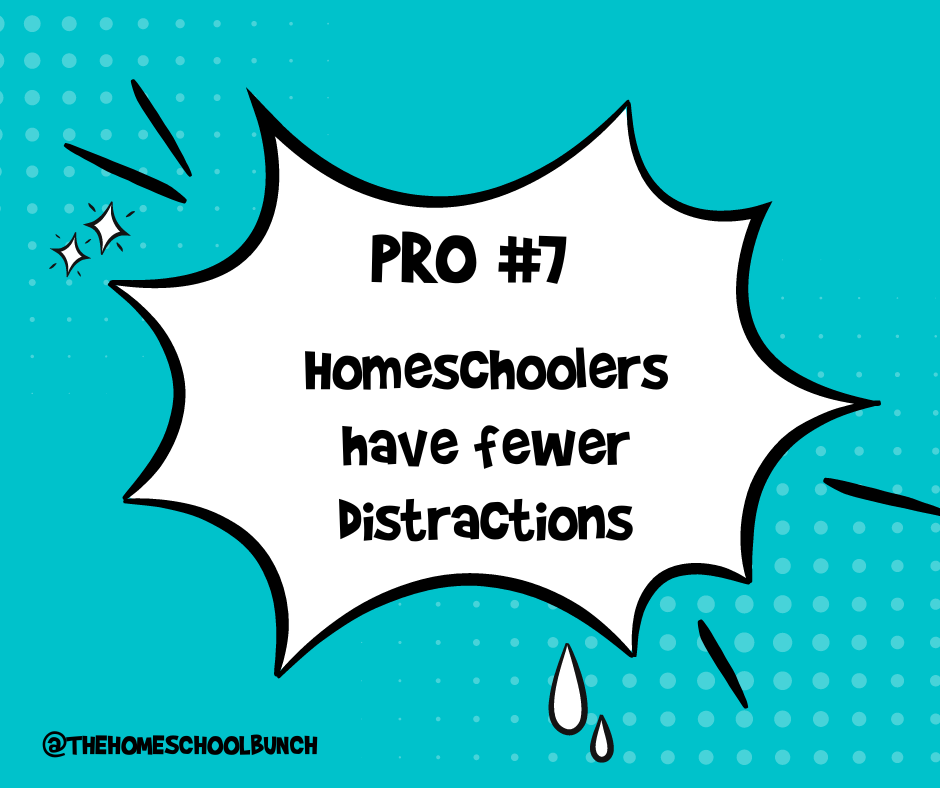 ---
Homeschoolers don't have massive pressure to compete against other kids in order to get a higher place, and they can wholeheartedly do anything that they are good at. In fact, homeschoolers are known to perform better on standardized tests.

---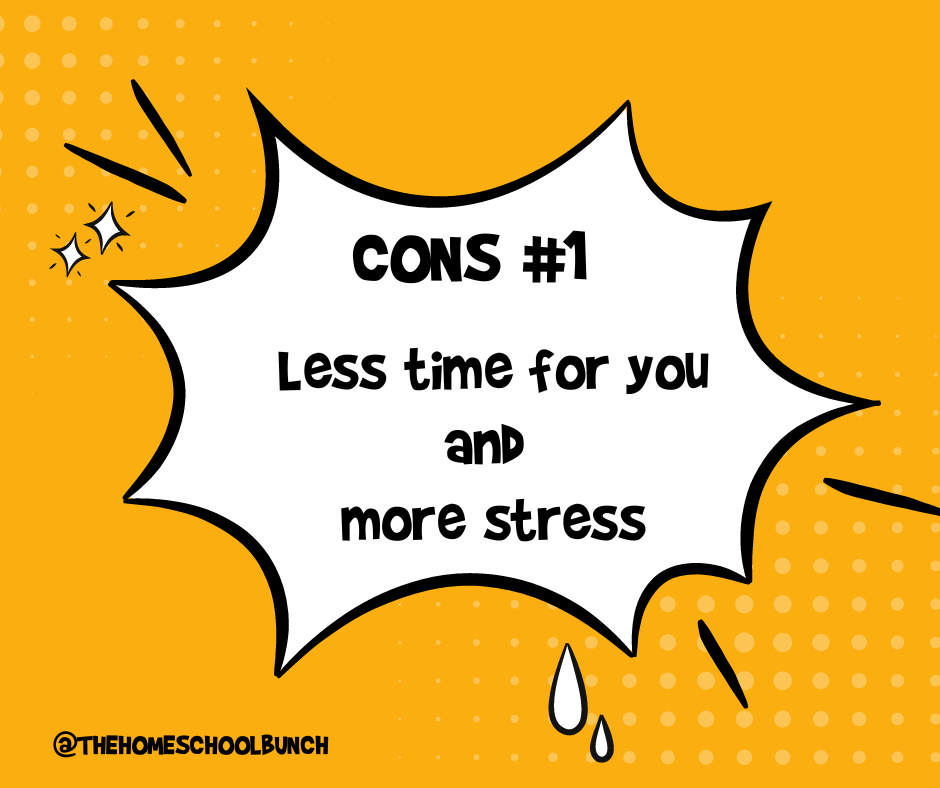 ---
Now you have to act both as a parent and teacher. Homeschooling will take a bigger chunk of your day-to-day life, leaving hardly any time for your work. So, if you don't have a top-notch schedule, you can kiss your "me time" goodbye and embrace more stress. Thankfully, there are co-ops and drop off enrichment centers that can help alleviate those stressful days so that you can focus on self care, run errands, or just get some much needed sleep.

---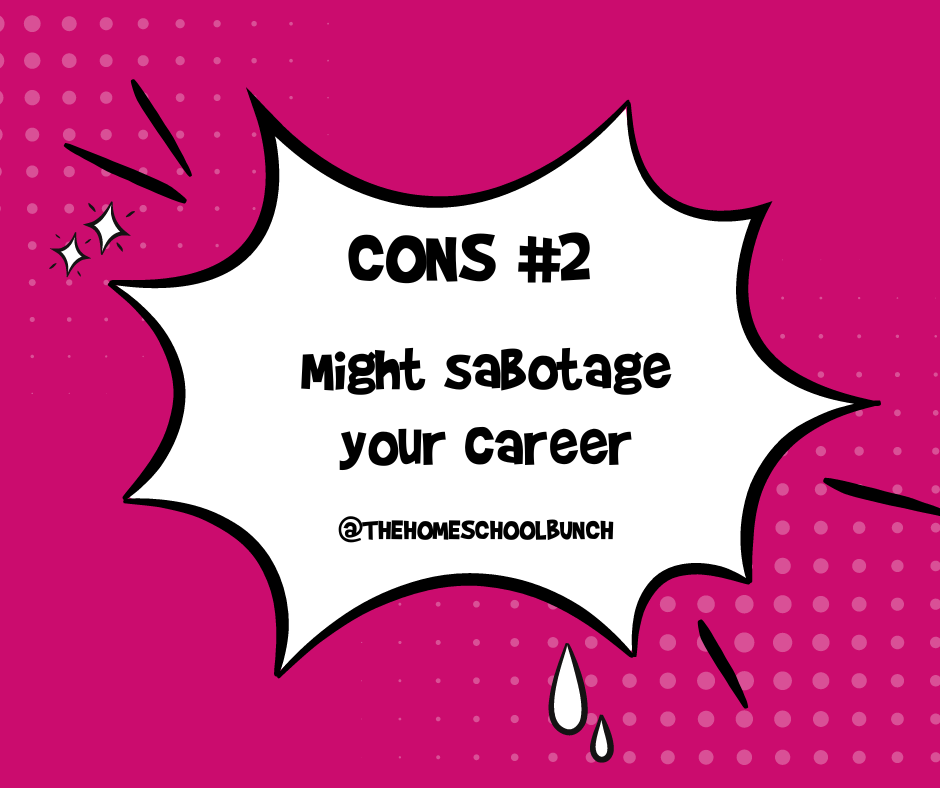 ---
---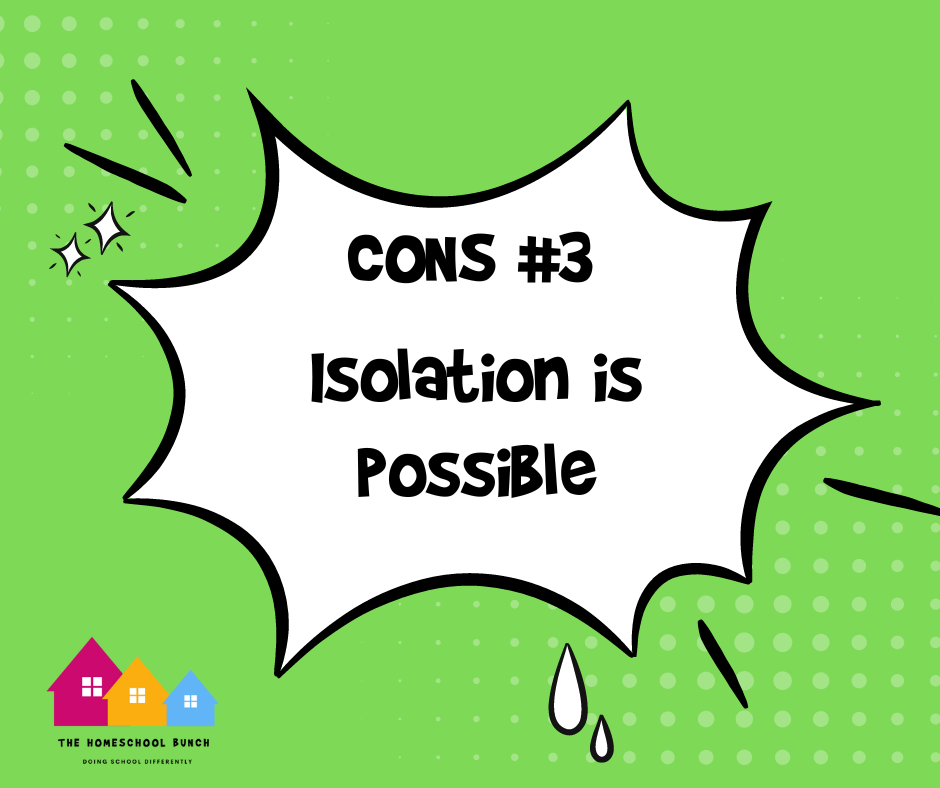 ---
Unless you sign up for a home school co-op or group, your kids will be limited to your family. Although they have a flexible curriculum, this limitation will keep social relationships at bay.

That said, there is a slight chance for this to happen. The reason is, your kids have many opportunities to mingle with other people. Besides, isolation depends on the individual as well. For example, there are many introverts at public schools where socializing should be at its peak.

---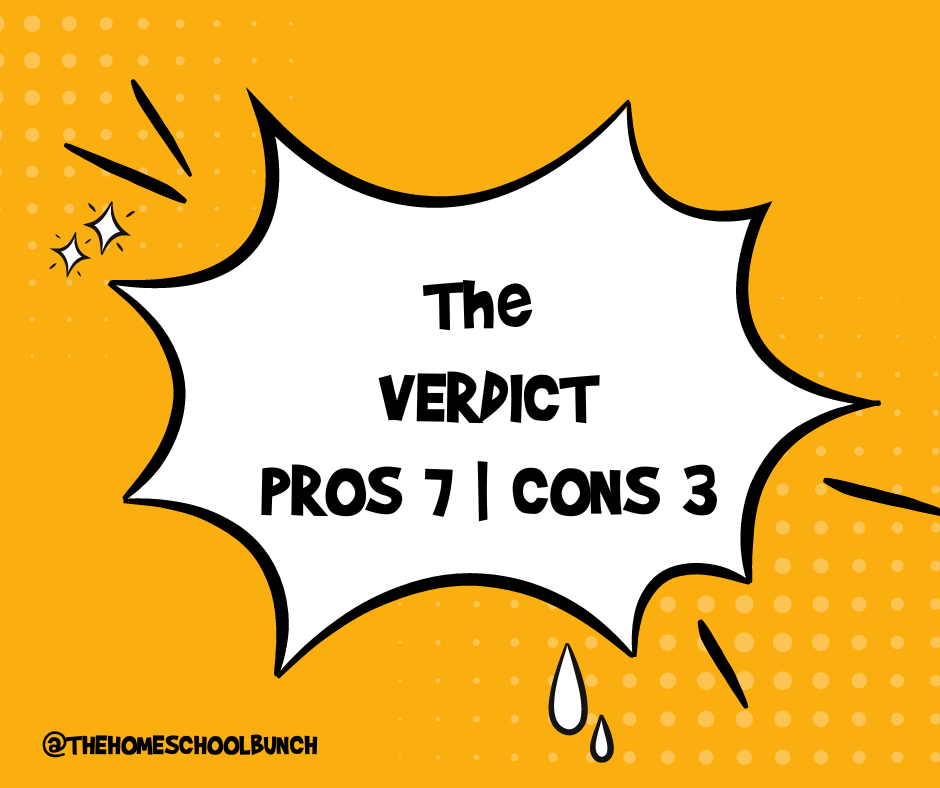 ---
Right off the bat, we can decide that homeschooling has more pros than cons, which is true. However, these pros and cons might differ from family to family, according to their opportunities, strengths, and weaknesses.
So, don't jump the gun before figuring out if your family could go through this change, but make sure to keep these pros and cons in the back of your head.

How to balance work & Homeschool
How to start
a Homeschool Co-op
---
It's time to join the Bunch!
Sign up to hear about the newest classes, local meetups, and upcoming events.